Get to know us a bit more before we start on your project by reading our answers to these commonly asked questions.
How did Ambition Insight get started?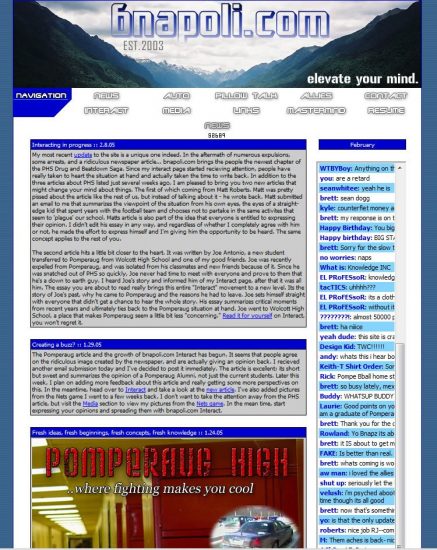 Founder & CEO, Brett Napoli started building websites for fun at age 13. Since then his passion has evolved into a career that provides clients in Fort Lauderdale, South Florida, and internationally with professional WordPress website development, WordPress consulting, and digital marketing services.
Brett broke his collarbone at 13 years old, leaving him trapped at home during the summertime without much to do. He started making websites for fun at first, but eventually created a personal website similar to what we could call a personal blog/daily blog today (before such a thing was common). The site reached hundreds of thousands of people and brought him some small town notoriety. He had always wanted to start his own business and be an entrepreneur, the Internet seemed like the best opportunity. Developing websites was a passion and a talent at an early age, and it offered him the flexibility to live a free life exactly how and where he pleased.
Other than developing websites, Brett has introduced several other revenue streams to the business over the years. He's developed several blogs/online media websites, began investing in domain names, teaching classes and seminars, public speaking, and consulting on web development, branding, and online marketing. Brett's owned and operated blogs have served over 1/2 a billion ad impressions and each has generated beyond 6-figures in revenue.
---
What should we know about Ambition Insight? What do you guys do best? What sets you apart from the competition?
Ambition Insight is an online media company, we help people and businesses get their greatest work out to the world. We accomplish this by building beautiful WordPress websites, online branding, and marketing strategies, social media marketing, and online business strategy.
We're known for creating beautiful, powerful websites that generate revenue. We help clients turn ideas into businesses and help businesses reach the next level by enhancing their online presence.
---
What questions should a customer ask before hiring a web development professional?
How do they build websites?
What content management system (CMS) do they use?
Do they provide search engine optimization (SEO)?
How many websites have they built?
Do they do this full time?
What is the extent of their experience?
---
How many projects does Ambition Insight average in one year?
We bring value to hundreds of clients on jobs ranging from small maintenance and logos to full blown, custom WordPress websites and enterprise WordPress training courses.
---
What would you recommend customers looking to save money?
Cut down on design and customization and focus on delivering the product inexpensively but effectively. You don't need a custom website, just one that works and provides a user-friendly experience.
---
What types of jobs are the most common?
WordPress Training, WordPress Websites, Social Media Training & Development
---
What information do you recommend to have readily available before looking for a professional in your trade?
Know what you want, how much you have to spend and how long you have before the project needs to be completed.
---
What areas of your trade do you specialize in?
Web Development and Web Consulting
WordPress Website Design
WordPress Training
WordPress Consulting
Online Marketing Strategy
Branding
Search Engine Optimization (SEO)
Search Engine Marketing
Social Media Development
Social Media Strategy
Social Media Training
---
What do you wish customers knew about your profession or trade?
Each and every project has its own set of challenges. Just because we use the same tool to develop our custom WordPress websites, it is more of a machine than a single tool. Many parts can go wrong at any time. Troubleshooting and maintenance is always necessary.
---
Why should I be on Google?
People don't use Google because they like Google, think it has a catchy name, prefer the simple design or even because so many other people use it; people use Google because it produces great search results. You can count on Google Searches to always serve the most relevant information in the most relevant order.
---
How much does a website cost?
Asking how much for a website is like asking how much for a house. What kind of house? How many rooms? How many square feet? Websites work in the exact same way. When you put together a website, the cost is determined by the amount of time and effort put towards each element of the site. Design, plugins, functionality and content formatting are just like time, design and materials when building a house.
---
Why should I invest in a website?
A website is an investment in the growth of your business. It's an asset that earns you money. You can't look at a website as something you've spent but rather an investment in your company or in yourself, to pursue new business using technology in a targeted and instantaneous way.