It doesn't matter what business you're in these days, having a powerful online presence is no longer just a bonus, but a necessary tool to compete and stay ahead of your competition.
On August 2nd, 2012 South Florida WordPress Training and Web Development Agency Ambition Insight will be offering a complimentary Wine & Cheese Event at the Crexent Business Center in Davie, Florida.  The team will be in house to share ways Small and Medium sized businesses can increase their online presence and earn more revenue.  Existing online consists of a powerful website, online marketing, social media, search engine optimization, online videos and much more.
Let us share how your website can work for you. We'll show you the way!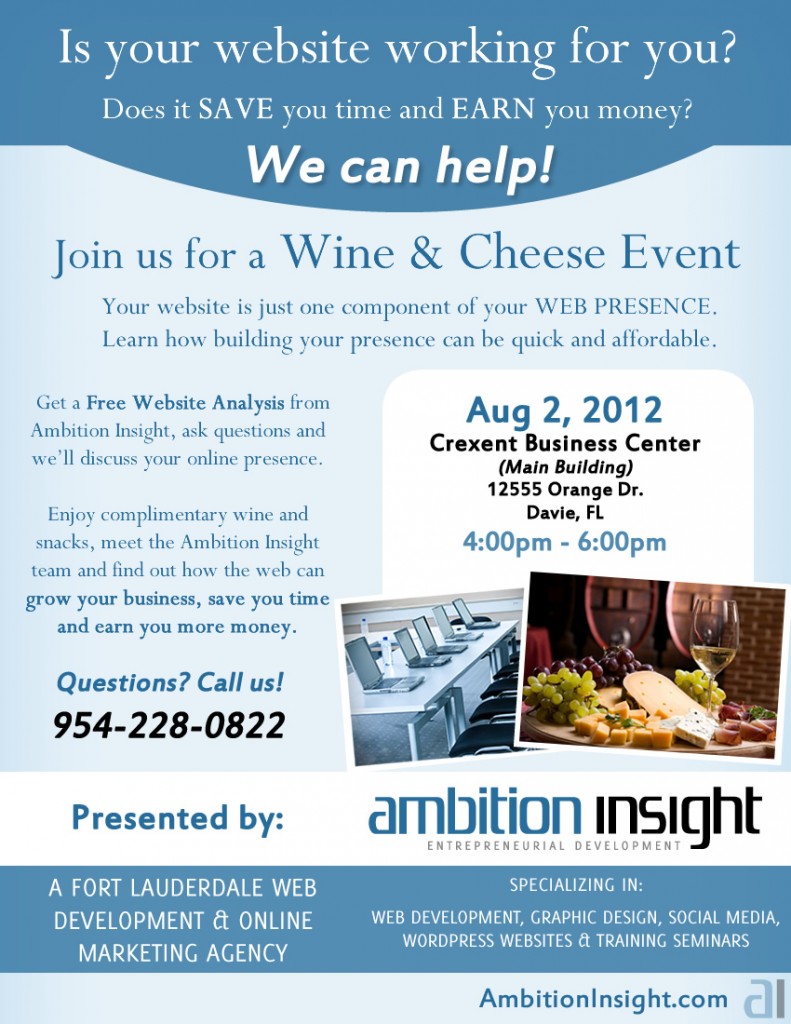 Businesses that survive are the businesses that are most adaptable to change.  Businesses that stay ahead of the curve by going above and beyond initially to reap the benefits over time.
Setting up a website has become much less complex over the past few years while the capabilities have increased; it seems like everybody and anybody is online. However, just being online doesn't mean your online presence is working for you.
Anybody can have a website, but does that website perform for you? Does it save you time and earn you money?

Creating a website without maintaining and updating it is like starting a business with a single product and refusing to adjust or update it to optimize its potential in an evolving market. Or even simpler than that, its like working out in the gym every day until you've reached supreme physical fitness, then skipping workouts for months while expecting your physique to remain the same.
Your website and online presence will supplement your business on and offline, allowing you enjoy the benefits as you connect with customers already looking for you. Why bang down doors to find potential clientele when a massive base of ready-to-buy customers are searching for you online. The customers are there for you, if you don't capture them – someone else will.
Join us to learn more about how we can grow your business and help you earn more money online!